5th January 2021
COVID-19 Update 5/1/22
Following the Government's most recent notice of a third lockdown, Revive! is responding appropriately and will continuing trading safely and professionally where our customers need us.
The guidance provided by the government is more explicit in that it details that tradespeople can work, indeed even inside of the homes of others, but at Revive! fortunately this is not necessary.
During this public health emergency, our priority continues to be the health and safety of our employees and customers. We are working actively to monitor the COVID-19 situation.
The last year has been extremely difficult for everyone but as professional tradesmen we have used this time to adapt our processes to work safely through the pandemic.
We are taking all necessary precautions both at Head Office as well as at our customers' facilities, be it a house, office or car dealership. We are also implementing necessary protocols and providing our employees with regular guidance on local requirements, based on relevant business and local directives.
Our skilled technicians working alone, outside minimise the risks to our customers, bystanders and themselves.
We are committed to working together with our customers and suppliers during these uncertain times, and we are thankful for their trust and continued partnership.
Following multiple successful pilots from the previous lockdown, we are pleased that our technicians are able to return to work with social distancing to ensure a safe environment for our employees, technicians and customers.
We are putting in place a number of measures to follow the social distancing guidelines.
We wanted to reassure you of the steps we're taking to ensure we continue to deliver a great service for you as well as keeping you and our technician safe.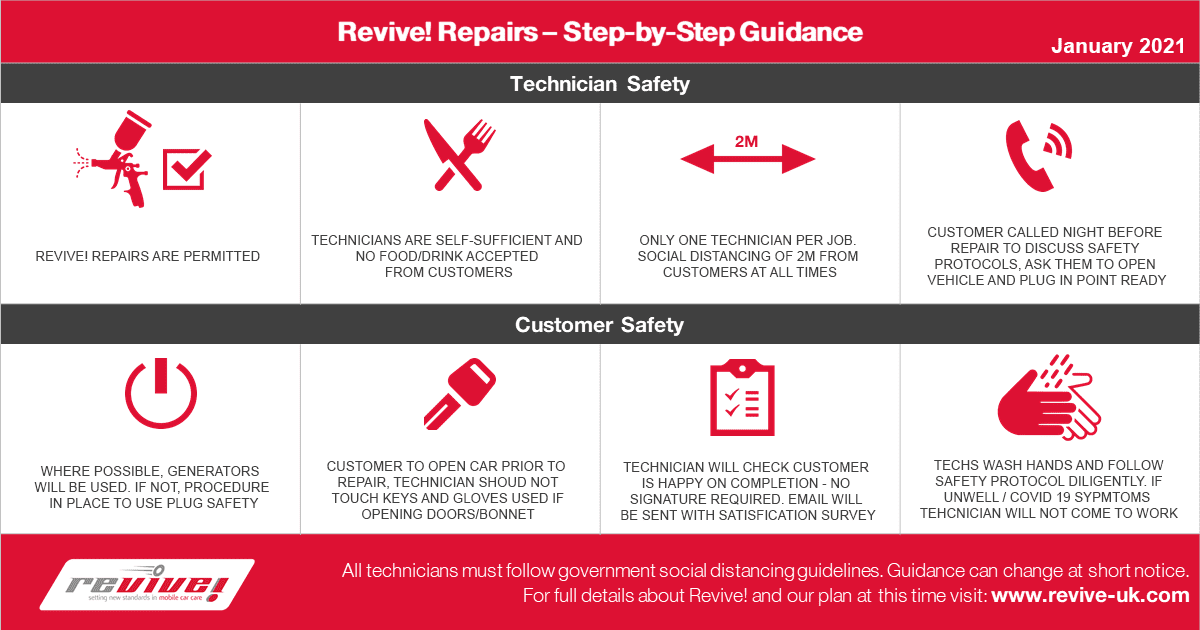 Our highest priority is the health and well-being of everyone, and our focus is to equip and support our teams so that they can work productively and efficiently without being exposed to unnecessary health risks.
Mobile technician guidelines
Our technicians wash their hands regularly and wear gloves. Gloves are disposed of and changed between repairs.
Where possible on arrival, the technician will call you rather than coming to your doorstep.
Our technicians are instructed not to handle your keys and as such we will require you to be present with the vehicle at the repair location so that you can unlock the vehicle and move it if necessary.
During this time, our technicians will respect a 2m distance from you at all times. We ask that you please do the same.
We do still require off-road parking and access to electricity, so please can you liaise with the technician regarding a safe way for them to plug into power. However we will endeavour to use our own power / generator where possible.
The technician will be wiping down tooling, including the extension leads and any areas of your property which they come into contact with.
We deploy work to our technicians via their phone and as such we have instructed them at this time not to obtain a satisfaction signature from you on completion of the repair. Please do let a member of our customer services team know if there is a problem with the repair or if you are not satisfied in any way.
Head Office: COVID-secure environment
At the same time, we are continuing to ensure that at Head Office we are working in a number of different ways. We have some members of the team working from home and others working in the office in a COVID-secure environment:
we have carried out a risk assessment
we have a cleaning, handwashing and hygiene guidance
we have taken all reasonable steps to maintain 2m distance and everything practical to manage transmission risk
We appreciate hugely your understanding and continued support during these unprecedented times.
Back to List