26th July 2023
"We really enjoy making things quicker and then winning." – Former BTCC champion Andrew Jordan on racing with his dad, Mike Jordan
Fifteen years after racing together in the British Touring Car Championship (BTCC), Andrew and Mike Jordan's joint passion for classic car restoration – and Andrew's passion for Minis in particular – has brought the father and son together as they compete in the Mini 7 Racing Club.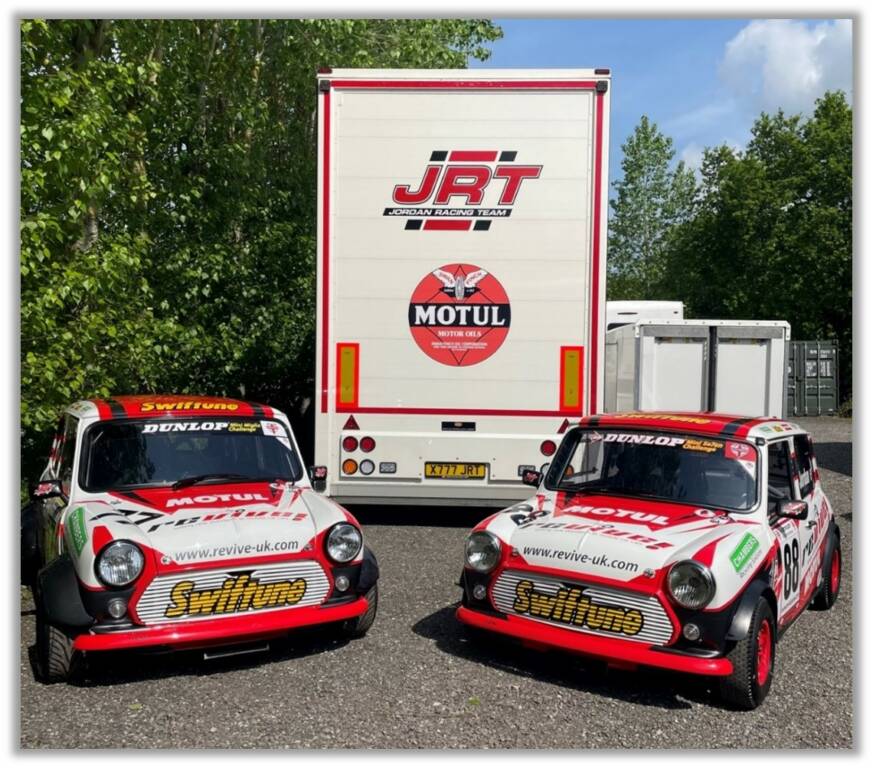 A Mini fanatic since age 7, Andrew started his racing career at 14 in Junior Rallycross driving a 50bhp Mini. Competing from 2003 to 2007, Andrew became the youngest ever driver and race winner in the British Rallycross Supercar class.
Said Andrew: "When dad was racing professionally in the 90s, the Minis were often in the supporting races. I was 7 or 8 at the time, watching the Minis fly round. I loved it. I've always wanted to race Minis."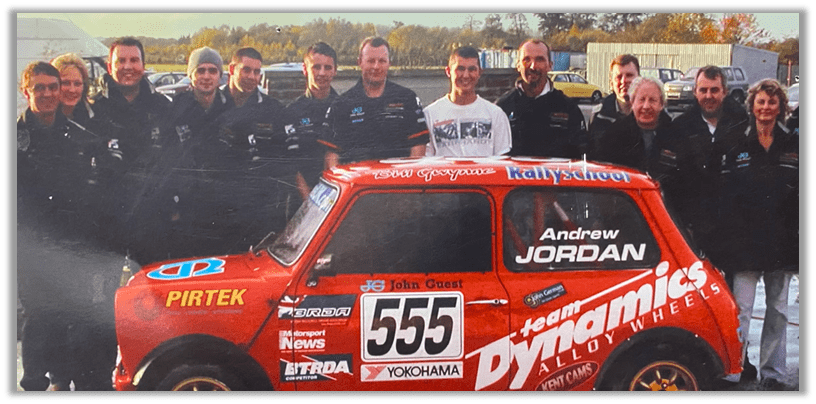 Andrew would then join his dad as part of a two-car team for Eurotech in the British Touring Car Championship, becoming the first ever father-son duo to race in the BTCC.
Their partnership was short-lived as Mike left the BTCC after the 2008 season, later getting involved with classic car restoration after purchasing an Austin A40 and rebuilding it for Goodwood Revival in 2013.
That was until, after rebuilding a classic Mini Miglia and winning the Dunlop Mini Miglia challenge in 2021, Andrew surprised his dad with the Christmas present of a then very shabby-looking Mini Seven.
Said Andrew: "It was a used car that had been racing in the Mini Club since the early 90s. I bought it based on pictures, and it looked bad in the pictures, but it was really bad when we actually got it.
"I knew it would need some work, but it needed a lot. It was funny actually; I gave dad a present and then we both quickly realised we'd have to spend a bit of money on it!"
Andrew and Mike restored the Seven with meticulous care over the festive period before wrapping it in the same red and white Revive! livery as Andrew's Mini Miglia.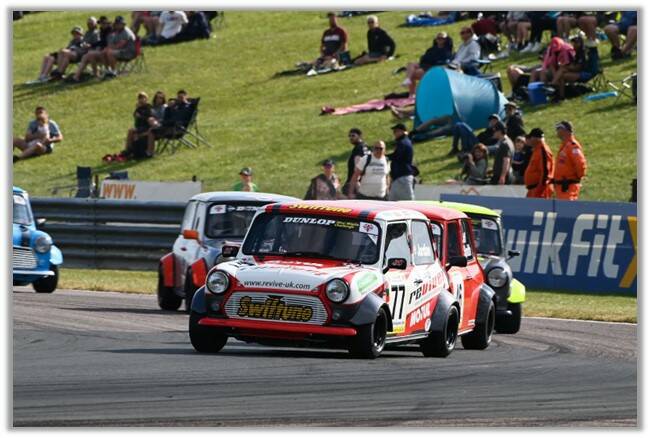 Although the two cars look almost identical, the difference when driving Andrew's grippy Mini Miglia compared to Mike's looser Mini Seven couldn't be more obvious.
"The Mini Miglia I race in is 1293cc by 135bhp, it runs big slick tyres with heavy brakes so it's quite stiff and really grippy. Whereas the Mini Seven runs at 1000cc with smaller treaded tyres, so it's a slightly slower car but it's honestly more fun to drive because there's a lot more movement.
Andrew and Mike added a lithium battery, a low-weight fire extinguisher, aluminium door hinges, 3D printed door handles and more to the Mini Seven, shaving off 12kg in the process.
"All this stuff that sounds small but adds up to make a big difference for a car that size. It's my dad's favourite car to drive now, it's lovely."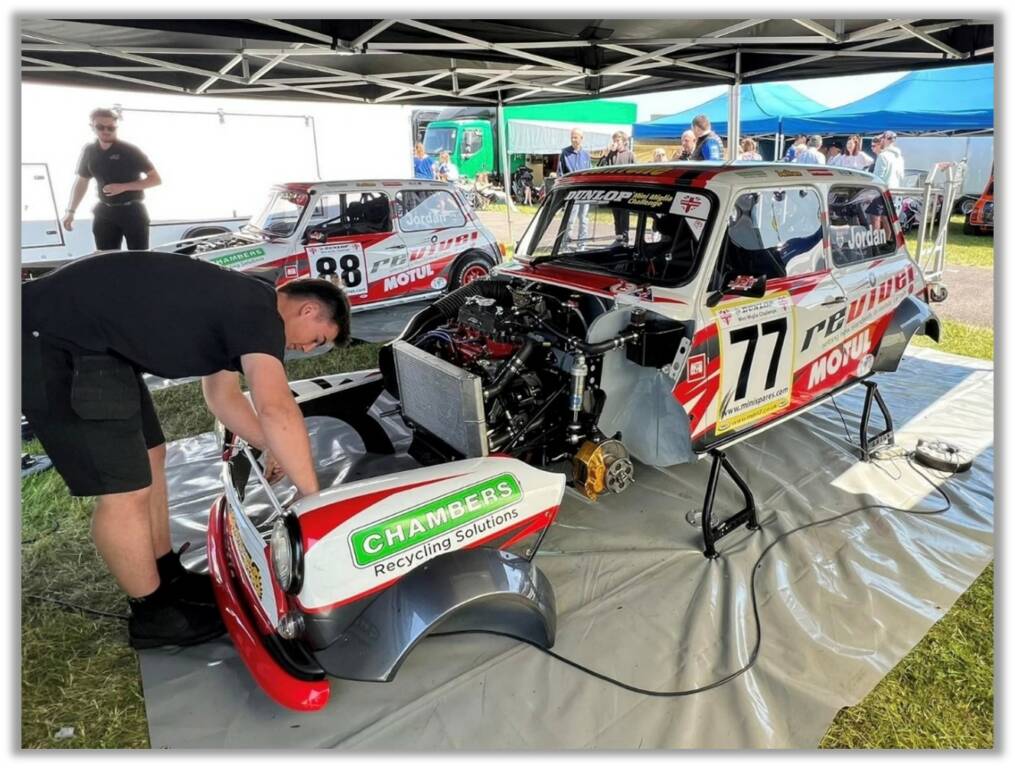 Rebuilding historic cars is more than a hobby for the Jordan family; they run a successful car restoration business which currently boasts nearly 50 classic cars, from Minis to Lotus Cortinas and more.
"The process of building a car is almost as fun as racing it. We really enjoy making things quicker and then winning."
Revive! began sponsoring Andrew in 2012. Now more than a decade into the partnership UK's leading SMART repairer, both Andrew and Mike's Minis are liveried in the Revive! colours of red, white and grey.
"They're the best-looking cars in the Mini 7 Racing Club, and the quickest too," commented Andrew.
As of June 2023, Mike Jordan is placed 1st in the Dunlop Mini Sevens Challenge while Andrew is placed 6th in the Dunlop Mini Miglia Challenge, having only competed in four of a possible eight race thus far due to other commitments with the family's historic car restoration business.
For the father-son duo, racing in the Mini 7 Club is as much about spending time together as it is winning – although they do like winning.
"We run the business together, but honestly we don't get to talk very often. It's nice to have weekends away together where we can watch each other race and just have fun.
"We tested the cars around Anglesey recently, and we're headed to Zandvoort Circuit in the Netherlands soon to race again. It's really nice to have that time together."
When asked which car had the better showing at testing, Andrew laughed: "They were within a tenth of a second of each other – mine's still faster though."
To learn more about Revive! and Andrew Jordan, visit www.revive-uk.com/andrew-jordan.
Back to List