Revive! sponsor BTCC driver Andrew Jordan
Revive! are proud Sponsors of Andrew Jordan, the 2013 British Touring Car Championship (BTCC) champion.

"Securing sponsors is one of the hardest jobs in Motorsport. With that said, it makes me even more proud to have been with Revive! since 2012. This sort of long standing relationship is down to our fantastic working relationship. It's not just about the branding on the car, or the live TV coverage, it's also about how we work together off the track to get the Revive! name out there to as many people as possible"
- Andrew Jordan

---
The Formative Years
Andrew Jordan's racing origins stem back to 2003 where he featured in the Junior Rallycross Championship and won the Winter Series in his very first season, becoming the British Trial and Rally Junior Champion the following year.
Continued success followed in the Rallycross discipline until 2008.

---
British Touring Car Championship (BTCC)
In 2008, a teenage Jordan made history by joining his father Mike in the BTCC and becoming the first ever father/son duo driving as part of the two man Eurotech racing team. He finished 13th in the standings, two places above his father and ended the season with two podiums.
The following season in 2009 Jordan made BTCC history by becoming the youngest ever driver to score a pole position.
Andrew grew quickly as a BTCC driver and became known for his speed and consistency. In 2012, at the age of just 23, he secured his first title by winning the Independents' award with the family run Pirtek Racing team.
In 2013 – the year in which Revive! began sponsoring Andrew – he went one better in a glittering season and took the overall Drivers' Championship.
You could say we were his good luck charm?
In 2018, Andrew will continue racing in a BMW 125i M Sport as part of the manufacturer backed WSR team.

---
Goodwood
As well as his success in BTCC, Andrew is also the official track tester for Goodwood Road & Racing.
He often races at Goodwood Revival, Festival of Speed and Member's Meetings and even builds and races celebrity owned cars, including the treasured Lotus Cortina of Howard Donald from Take That.
---
Scalextric!
In March 2018, Scalextric will be releasing a scale model of Andrew's BMW 125i M Sport which features the Revive! branding, including our website on the bonnet.
We're incredibly proud to see our brand represented on such an iconic toy that's been around since the 1950's.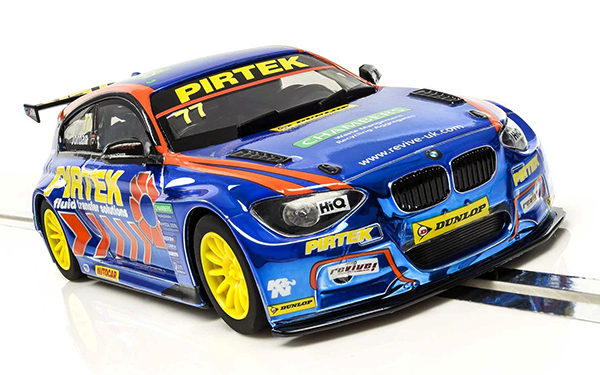 You can order your Revive! branded Scalextric here.