20th July 2017
Revive! East Anglia in the News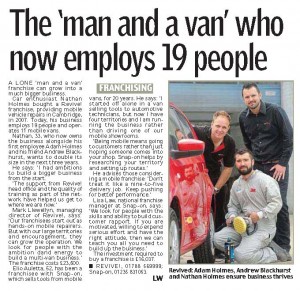 Franchisee of the Year winners Revive! East Anglia, hit the press today when the Daily Mail featured them in their franchising section. The article read:
A  lone 'man and a van' franchise can grow into a much bigger business.
Car enthusiast Nathan Holmes bought  a Revive! Franchise providing mobile vehicle repairs in Cambridge in 2007.  Today, his business employs 19 people and operates 11 mobile vans.
Nathan, 33, who now owns the business alongside his first employee Adam Holmes and his friend Andrew Blackhurst, wants to double its size in the next three years.
He says: 'I had ambitions  to build a bigger business from the start.
'The support  from Revive! head office and the quality of training as part of the network have helped us get to where we are now.'
Mark Llewellyn, managing director  Revive!, says: ' Our franchisees start out as hands- on mobile repairers. But with our large territories and encouragement, they can grow the operation. We look for people with the ambition and energy to build a multi-can business."
Back to List