Revive! sponsored Andrew Jordan has his sights firmly fixed on a big haul of points when the Dunlop MSA British Touring Car Championship season bursts back into life this weekend at Snetterton.
Andrew goes into the sixth meeting of the season sitting fourth in the championship standings, having rebounded well from a difficult start to the year to bring himself firmly into title contention at the halfway stage of the campaign.
A strong haul of points at both Oulton Park and Croft allowed the 2013 champion to rocket up the standings, with his confidence boosted further by a solid two-day test at Snetterton earlier this month and a winning performance in the BTCC's shootout event at the Goodwood Festival of Speed.
Snetterton is a circuit where Andrew has been successful in the past, winning in 2012 and then repeating the feat twelve months later en-route to his championship title.
It's also a venue where he came agonisingly close to victory last year after a dominant performance in the final race saw him leading until the closing laps when an electrical issue cost him a certain win.
Eager to repeat that front-running form this time around, albeit with a better end result, Andrew will also face an additional challenge thanks to a revised weekend format to incorporate a special 'Diamond Double' race that is part of the BTCC's 60 anniversary celebrations.
Race three will run to an extended length of 60 miles and will see all cars running without success ballast, with the grid being decided through an additional qualifying session – again run ballast free – on Saturday afternoon.
Double points will also be awarded to add an extra layer of intrigue to the fight for the championship crown.
"Snetterton promises to be a big weekend for the series with the special 60 mile race, which is a really cool thing to be part of," Andrew said. "We head there fourth in the points after some good results at both Oulton Park and Croft, which were largely down to us putting in a good performance on Saturday and qualifying well.
"The approach to Saturday will be a bit different because of the need to set-up the car to qualify with ballast for race one but also without ballast for race three, so it promises to be a busy day on track and an added challenge for both teams and drivers. If we can qualify well in both sessions however, we know we have a strong car to then fight for some good points on race day.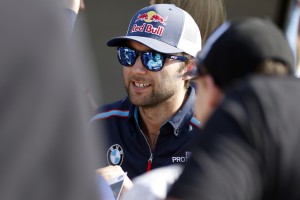 "We're at that stage of the season where we need to start outscoring the guys ahead and need to strike a balance with our approach on track. I'll take risks when I need to but we also have to focus on the points, and that is something that will be particularly true this weekend in the final race.
"It will be interesting to see how people approach the 'Diamond Double' race and how aggressive they are because with double points on offer, it's vital to get a finish and to get some points on the board – you can't afford not to score.
"If we can maintain the form we showed in the run up to the summer break then we'll be in a good position and I'm hoping to challenge for the podium and pick up a big haul of points to close the gap at the front."