Revive! sponsored Andrew Jordan was able to celebrate his first victory of the Dunlop MSA British Touring Car Championship season after a strong performance on track at Knockhill.
Andrew made the trip to Scotland eager to get his title challenge back on track after a tough weekend on track at Rockingham last time out that saw him secure just four championship points.
Right on the pace throughout practice at the wheel of his West Surrey Racing-run BMW 125i M Sport, Andrew qualified third on the grid for the opening race of the weekend despite admitting frustration at not being able to get the most from his quickest laps due to yellow flags on track.
The prospect of rain for race day left Andrew concerned about his chances, but the BMW would prove to be a strong package in challenging wet conditions throughout all three races.
Fourth place in the opening race of the weekend was followed by what looked like a solid third in race two behind the Subaru of race one winner Ash Sutton and the Toyota of Tom Ingram.
When the two cars ahead then failed the post-race ride height test however, Andrew was declared the winner of the race to give him a 20th career victory and he followed it up with another trip to the podium in race three to give him an impressive weekend haul of 49 points.
It means Andrew had now climbed to fourth in the championship standings with two rounds of the year still to run and is just 16 points away from second spot.
"It's been a great weekend and one that went better than I expected considering the rain on race day," he said. "The team did a mega job with the car to deal with the conditions and from the very start of race one, we had a car that was in the window and that I could attack with."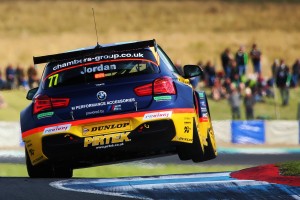 "To come away with a fourth, a third and a win is a job well done and whilst it isn't the way that I wanted to take my first victory of the year, I'm not going to turn it down. At the end of the day, our car was within the rules and for whatever reason, the two in front weren't – and a win is a win regardless of how it arrives."
"We've picked up some really good points that have allowed us to jump up the standings but I haven't really been thinking about that, and the big positive for me is that we have been near the top of the times in every session. The pace we have shown has been reflected in the results, which hasn't always been the case this season."