Revive! sponsored Andrew Jordan lived up to his pre-weekend aims at Oulton Park with a double podium finish bringing him right back into contention for the 2018 Dunlop MSA British Touring Car Championship title.
Andrew headed into the weekend eager to kick-start his campaign after a troubled opening to the year, with a single podium finish from the opening three meetings of the campaign not being a true reflection of the pace of his West Surrey Racing-run BMW 125i M Sport.
On a circuit where rear-wheel drive cars have traditionally been strong, Andrew qualified on the second row of the grid and ran fourth in the first half of the opening race before making a move for position on Sam Tordoff ahead on lap eight.
Once into third, Andrew would chase down the two drivers ahead before taking the flag for his second podium finish of the year.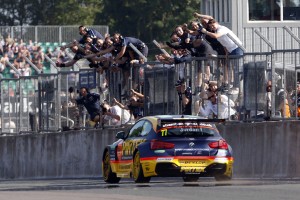 Although he would jump up to second on the opening lap of race two, the additional success ballast on his car – added to the mandatory 30kg for running rear-wheel drive – would make the 15 lap encounter more of a challenge, with Andrew driving well to take fourth place.
With the reverse grid draw putting him fourth on the grid in race three, Andrew was well placed to add more strong points to his tally and he saved the best for last as he took a season's best second place as part of a BMW 1-2-3 for his WSR team.
An impressive haul of 45 points was the second highest scored across the weekend and means Andrew now sits seventh in the championship – just 31 points away from the lead – heading to Croft in two weeks time.
"With the way the season had gone so far, we had to have a good weekend here to prevent the gaps becoming too big in the championship," he said. "We've shown strong pace in every meeting so far but for various reasons beyond our control, that hadn't been reflected in the end results. This time around, everything came together and we've reaped the rewards.
"As a team we've put a huge amount of work in and these results are a reward for us all for that work. To get a second, a third and a fourth from the weekend and to be so consistent is fantastic, and we've put some really good points on the board.
"We've brought ourselves right back into contention going to Croft and another circuit that should suit the BMW, so our season is now well and truly underway."